About Us
---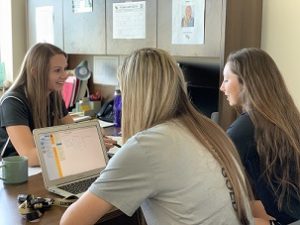 ASSA offers a variety of support services to meet the unique needs of the student-athlete population at UCF. More than 45% of UCF student-athletes receive one-on-one learning assistant meetings on a weekly basis, including all new student-athletes to the university.
Tutoring is available in more than 75 courses for all student-athletes five nights a week. Over 50 computers are available for use in one of three monitored study areas reserved specifically for student-athletes. In addition, student-athletes may receive academic accommodations when traveling for competition. Learning Specialists are also on staff to work closely with students diagnosed with learning disabilities and help ease their transitional needs.
Mission Statement
ASSA's mission is to provide structured, individualized academic support services for all student-athletes, focused on integrity and accountability. We promote academic excellence through collaboration with the UCF community to positively transform the lives of our student-athletes and foster life-long learning.
Services
Over 75 subjects tutored
Intensive interview process for all tutors hired
Tutoring available six days a week (Sunday-Friday)
Available to students of all ability levels
All learning assistants are senior level status or graduate students
One-on-one weekly meetings to work on Assignment Completion, Time Management, Organizational Skills, Goal Setting, and Study Skills
Learning Assistants go through rigorous training in ASSA and NCAA policies
Study Hall
Monitored Environment
Mandatory for assigned students in one of three formats

TEAM: Entire team meets at a schedule time each week
HOURS: Required number of hours to do in ASSA monitored environment
OBJECTIVE BASED: Students complete daily objectives for each course.